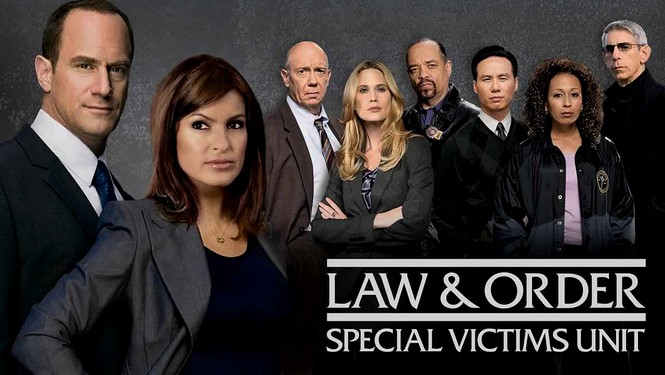 Law & Order: Special Victims Unit
1999-2010
TV-14
12 Seasons
Tackling hard-hitting social issues ripped from newspaper headlines, this edgy police procedural follows members of the NYPD Special Victims Unit as they investigate sexual offenses such as rape, incest, pedophilia, torture and serial murder. Created by Dick Wolf, this award-winning Law & Order spinoff co-stars Christopher Meloni and Mariska Hargitay as seasoned detectives Elliot Stabler and Olivia Benson.
Summary (
2010

)

During the 12th season of this Emmy-winning crime drama, Olivia Benson (Mariska Hargitay) and Elliot Stabler (Christopher Meloni), detectives with New York's Special Victims Unit, welcome new assistant D.A. Gillian Hardwicke (Melissa Sagemiller) and face off with suspicious charmer Erik Weber (Henry Ian Cusick). Benson also aids a traumatized rape victim (Jennifer Love Hewitt) and travels to Los Angeles to process old DNA evidence.
1

Locum

Season 12 : Episode 1

41 minutes

Locum

A couple calls Benson and Stabler when their 10-year-old adopted daughter disappears. It soon comes to light that she met a man on the Internet.

2

Bullseye

Season 12 : Episode 2

41 minutes

Bullseye

The detectives learn that a 10-year-old rape victim's mother suffers from a rare condition that renders her unable to recognize her daughter.

3

Behave

Season 12 : Episode 3

42 minutes

Behave

Benson and Stabler try to help a rape victim, but she lives in such fear that she then denies the crime occurred and refuses to submit to a rape kit.

4

Merchandise

Season 12 : Episode 4

41 minutes

Merchandise

When a teen is hit by a car and killed, Dr. Warner rules it a homicide, having found signs that the girl was starved and had recently given birth.

5

Wet

Season 12 : Episode 5

41 minutes

Wet

When a woman's squeaky-clean image doesn't match up with her promiscuous actions on the night of her murder, the cops must dig deeper into her past.

6

Branded

Season 12 : Episode 6

42 minutes

Branded

When Benson and Stabler investigate an attack on an unassuming, upstanding father, they find he's also been branded on his chest with a coat hanger.

7

Trophy

Season 12 : Episode 7

42 minutes

Trophy

Benson and Stabler find that a rape and murder victim was involved in an environmental group. The case soon exposes a larger mystery and more victims.

8

Penetration

Season 12 : Episode 8

41 minutes

Penetration

FBI agent Lewis is assaulted and asks Benson to have her rape kit tested. Before the cops can help, Lewis goes back undercover and refuses to talk.

9

Gray

Season 12 : Episode 9

42 minutes

Gray

Stabler goes to his daughter's university to discuss rape prevention at a rally. A girl from the crowd accuses another student of rape.

10

Rescue

Season 12 : Episode 10

41 minutes

Rescue

With young Calvin in her care, Benson continues to search for his drug-addict mother. Yet Stabler notices a bond forming between Benson and the boy.

11

Pop

Season 12 : Episode 11

41 minutes

Pop

A boy is found dead in a park after being dropped off by his uncle. Benson and Stabler learn the boy was beaten to death and suspect a school bully.

12

Possessed

Season 12 : Episode 12

42 minutes

Possessed

A woman has been attacked in her home, with evidence pointing to her troubled past. Benson and Stabler learn an elderly man may have been involved.

13

Mask

Season 12 : Episode 13

42 minutes

Mask

Debbie comes home to find her partner, Ann, being raped by a man wearing a mask. Benson and Stabler interrogate Ann's father, who has a sordid past.

14

Dirty

Season 12 : Episode 14

40 minutes

Dirty

Detective Qadri looks for DA Page Ferguson, who may be in danger. Qadri finds Ferguson just in time to see her fall from the top of a parking garage.

15

Flight

Season 12 : Episode 15

41 minutes

Flight

As Benson and Stabler investigate claims of sexual abuse, the billionaire suspect involves his lawyer, who throws the whole case awry.

16

Spectacle

Season 12 : Episode 16

40 minutes

Spectacle

After the sexual assault of a young woman is featured on a campus-wide intranet feed, Stabler and Tutuola go in search of the victim and her attacker.

17

Pursuit

Season 12 : Episode 17

42 minutes

Pursuit

When Alicia Harding, host of the TV series "Neighborhood Predator," begins receiving threats, her long pursuit to find her sister's abductor emerges.

18

Bully

Season 12 : Episode 18

41 minutes

Bully

When an art patron discovers a gruesome work of art, it leads gallery visitors to find a woman dead in her apartment above.

19

Bombshell

Season 12 : Episode 19

41 minutes

Bombshell

After Jerry Bullard is found stabbed in a parking garage, detectives Benson and Stabler discover that the family man might have had an illicit hobby.

20

Totem

Season 12 : Episode 20

43 minutes

Totem

When a girl is found dead with a doll believed to have been left as a totem, Benson and Stabler join a psychologist to retrace the girl's last steps.

21

Reparations

Season 12 : Episode 21

41 minutes

Reparations

Deputy DA Jonah Dekker defends his cousin, who is accused of rape. Assistant DA Casey Novak returns to help Benson and Stabler with the case.

22

Bang

Season 12 : Episode 22

41 minutes

Bang

The detectives search for the nanny of an abandoned baby. Upon meeting her, the cops learn her boyfriend is engaged to the baby's adoptive mother.

23

Delinquent

Season 12 : Episode 23

41 minutes

Delinquent

When a woman finds a teenage boy naked in her bedroom, his mother is quick to defend him. Benson and Stabler try to figure out what truly happened.

24

Smoked

Season 12 : Episode 24

41 minutes

Smoked

When a woman is killed while shopping with her daughter, Benson and Stabler are called in because she was scheduled to testify in a rape case.
---
Show Details
Creator

Dick Wolf
Cast

Christopher Meloni

Mariska Hargitay

Richard Belzer

Dann Florek

Ice-T

B.D. Wong

...see more

Tamara Tunie

Diane Neal

Michelle Hurd

Stephanie March

Adam Beach

Michaela McManus
Genres

TV Shows

Crime TV Shows

TV Dramas

TV Mysteries

Courtroom TV Dramas

Crime TV Dramas
This show is
Ratings
Streaming Details
Streaming

Available in HD
Subtitles
---
More Like
Law & Order: Special Victims Unit