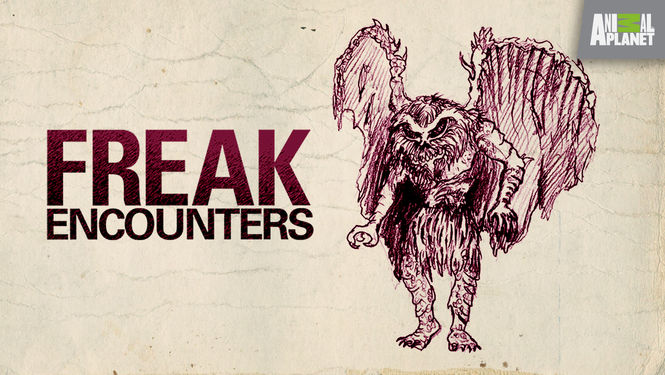 Freak Encounters
2010
TV-PG
1 Season
The creatures on Freak Encounters are inspired by reported sightings. While each episode contains fictional elements, for one person it is all too real. Watch as unsuspecting people come face-to-face with a monster.
Summary (
2010

)

In this frightening and gripping reality series, ordinary people face extraordinary beings, such as a gargantuan snake and a werewolf. Watch what happens when unsuspecting victims come head-to-head with the unbelievable.
1

Ahool

Season 1 : Episode 1

21 minutes

Ahool

Christian joins up with a wildlife research team investigating aerial attacks on animals in the forest.

2

Werewolf

Season 1 : Episode 2

21 minutes

Werewolf

Heather thinks she is helping to investigate a mysterious car accident, but the cause of these crashes is no mystery: It's a bloodthirsty werewolf.

3

Wild Man

Season 1 : Episode 3

21 minutes

Wild Man

Mike thinks he's helping a wildlife team study bears in the forest, but their research leads to the capture of a prehistoric Neanderthal being.

4

Mothman

Season 1 : Episode 4

21 minutes

Mothman

Colby thinks he's taken a job working with a highway construction crew, but when the dreaded Mothman strikes, Colby could be next.

5

Area 52

Season 1 : Episode 5

21 minutes

Area 52

Russell's research documents show evidence of scientific experiments, leading him face-to-face with a alien/human hybrid.

6

Mega Snake

Season 1 : Episode 6

21 minutes

Mega Snake

Colin has taken a security job at an abandoned warehouse. Unfortunately for him, a man eating, 30-foot mega-snake is on the loose.

7

Monster Spider

Season 1 : Episode 7

21 minutes

Monster Spider

Chris assists a building inspection team at an abandoned warehouse. Mysterious attacks on the team get vicious: the culprit is a monster spider.

8

Lizard Swamp Man

Season 1 : Episode 8

21 minutes

Lizard Swamp Man

Matt takes a job at a truck inspection depot. But when mysterious cargo releases a vicious lizard swamp man, all hell breaks loose.

9

Death Worm

Season 1 : Episode 9

21 minutes

Death Worm

Mya helps a geological team at a quarry. She discovers they've awakened a nest of vicious, monster-sized death worms, and they're on the attack.

10

Vampire Virus

Season 1 : Episode 10

21 minutes

Vampire Virus

Camille works with an expedition team in a quarry. When rock drilling releases smoke, it's clear that a deadly airborne virus has been unleashed.

11

Pukwudgie

Season 1 : Episode 11

21 minutes

Pukwudgie

Alex thinks she's working on an archaeological expedition. Unfortunately, the crew's presence has disturbed an evil tribe, and no one is safe.

12

Genoskwa

Season 1 : Episode 12

21 minutes

Genoskwa

Jedidiya works on a bobcat documentary. Little does she know that the crew is really on the hunt for a ferocious cousin to the Sasquatch.

13

Tunnel Monster

Season 1 : Episode 13

21 minutes

Tunnel Monster

Sara works on a new TV show with a rat exterminator. Deep into the city's tunnel system, she encounters a vicious tunnel monster on the hunt for blood.

14

Jersey Devil

Season 1 : Episode 14

21 minutes

Jersey Devil

Ivett works with animal control to track down a dog. They discover that the legendary Jersey Devil is on the attack.

15

Giant Rat

Season 1 : Episode 15

21 minutes

Giant Rat

Anthony thinks he's taken a job helping a home inspector when he discovers a 4-foot giant rat has taken over the house and is feeding on human flesh.

16

Saurians

Season 1 : Episode 16

21 minutes

Saurians

Fallon thinks she's assisting an archeological team. They have invaded the nest of the lizard alien, and its eggs are about to hatch.
---
Show Details
Cast

Brooks Gray

Andy King
Genres

TV Shows

Reality TV
This show is
Ratings
Streaming Details
Streaming

Available in HD
Subtitles
---
More Like
Freak Encounters